Accidents happen. When they do, it is important that you work with a reputable repair facility that can return your vehicle back to pre-accident condition. AutoBody by Fisher is the leading auto body and collision repair center in Van Alstyne. We offer state-of-the-art technology and over 30 years of experience to make sure your vehicle is repaired to a like-new condition using manufacturer and safety guidelines.
AutoBody by Fisher's goal is to get you back on the road as quickly as possible while operating under strict quality control standards. Over the years, we have developed a streamlined process that will get your vehicle inspected, repaired and returned to you in a seamless and stress-free manner.
If you are looking for a collision repair or auto body shop in Van Alstyne, we are here to help. Contact us today for a free consultation or visit our online estimate page to get started now.
Call us today for a free consultation
(903) 482-5171
Professional Team
Our customers are our top priority.
Quality Parts
OEM and after-market parts available.
Latest Equipment
Using the latest and best tools of the trade.
Quality Guarantee
We are not happy till you are.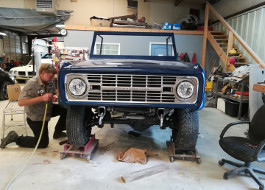 Autobody by Fisher proudly serves the people of Grayson and Collin Counties. We work on all makes and models of vehicles including Ford, Chevrolet, Honda, Dodge, Toyota, Nissan, Mazda, Mercedes, Lexus, BMW and more. We also work on RVs, Buses, Big Rigs and other commercial vehicles. No matter what kind of vehicle you have, we've got you covered. From auto body customs, vehicle bodywork repairs or mechanic work, we can help. If you need any type of auto work, stop by or give us a call. We would love to meet you.